Top 10 swimming pools where to cool off in the summer months
This year, more than ever, having a private or community swimming pool is a pleasure, and for this reason we want to show you the best and most spectacular pools that we have, whether due to their design or their size.
It is true that in the case of community pools, rules for safety and hygiene standards have been established to continue preventing the expansion of COVID-19.
19246- Impressive house with garden and paddle tennis court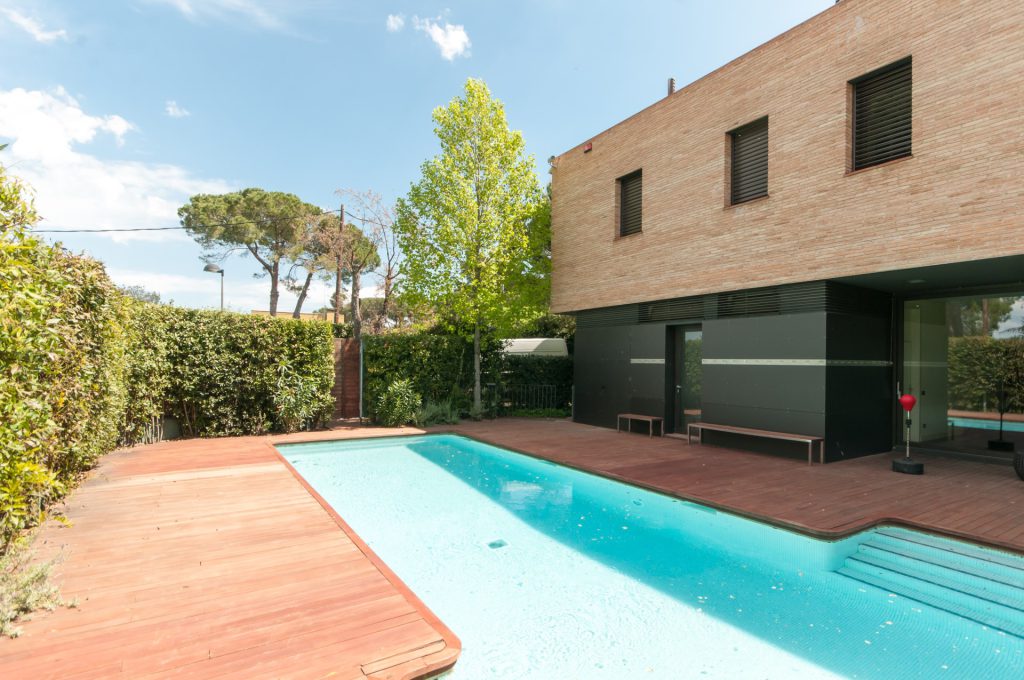 On a plot of 2013sqm we find this 331sqm house with this spectacular pool in Sant Cugat. In addition, it also has a paddle tennis court, an orchard and a space to practice golf.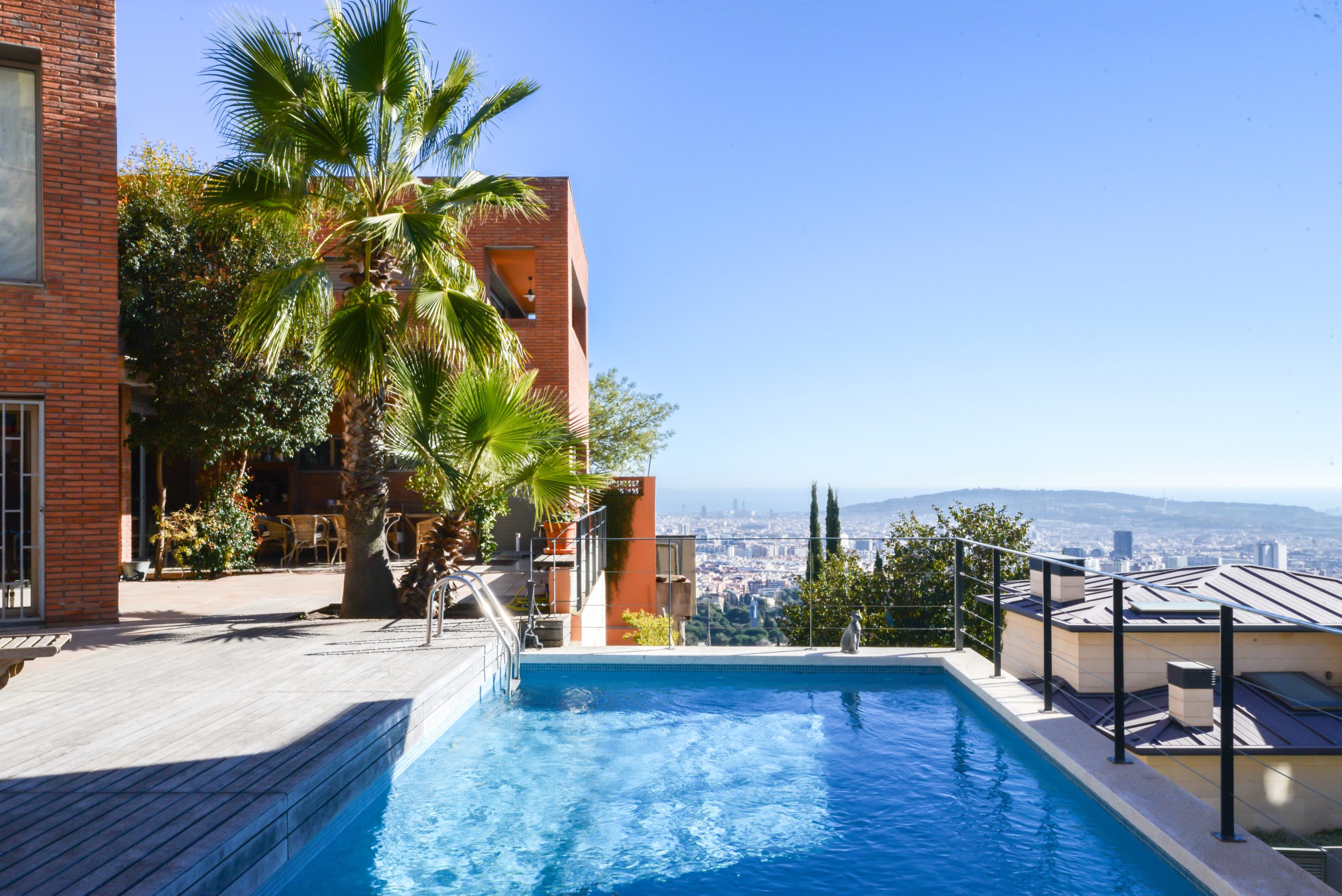 This fantastic swimming pool is located in a 420sqm house in Barcelona. It is a modern, single-family house with a garden area at the back where you can enjoy the tranquility. In the house has everything you need, elevator on each floor, parking, terrace, projector and cinema screen. The best orientation and with spectacular views of all of Barcelona and the Mediterranean.
27552- Townhouse at the gates of Barcelona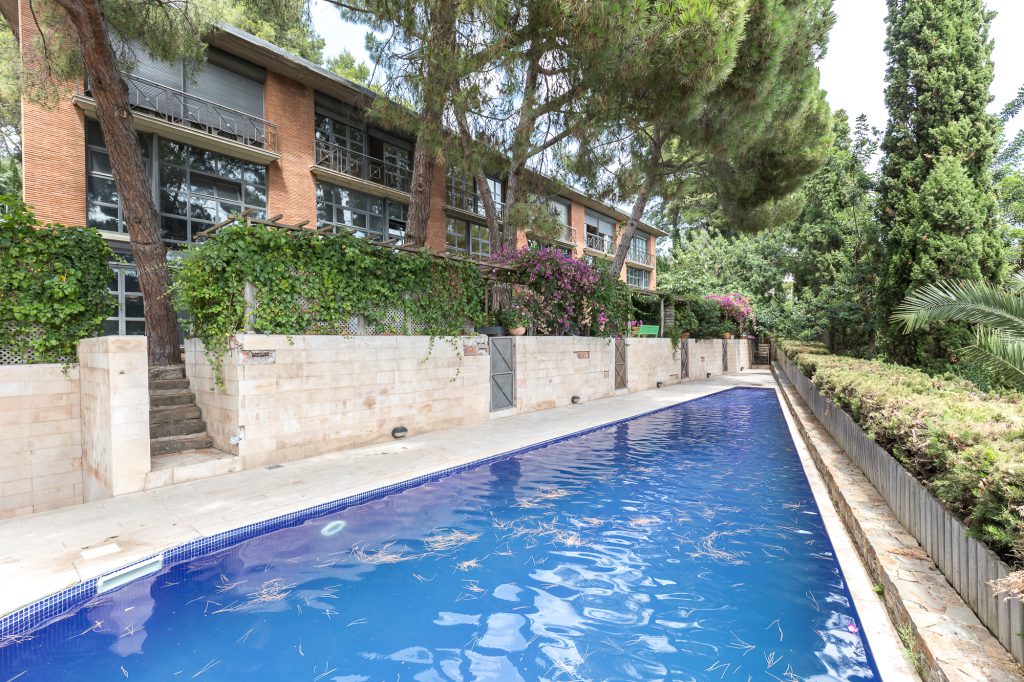 This very special community swimming pool is part of the private complex designed by the prestigious architect Carlos Ferrater with all of 254sqm semi-detached houses in Sant Just. The houses inside the enclosure, with a wooded area, have 4 floors and the front facade has large windows that let all the light through.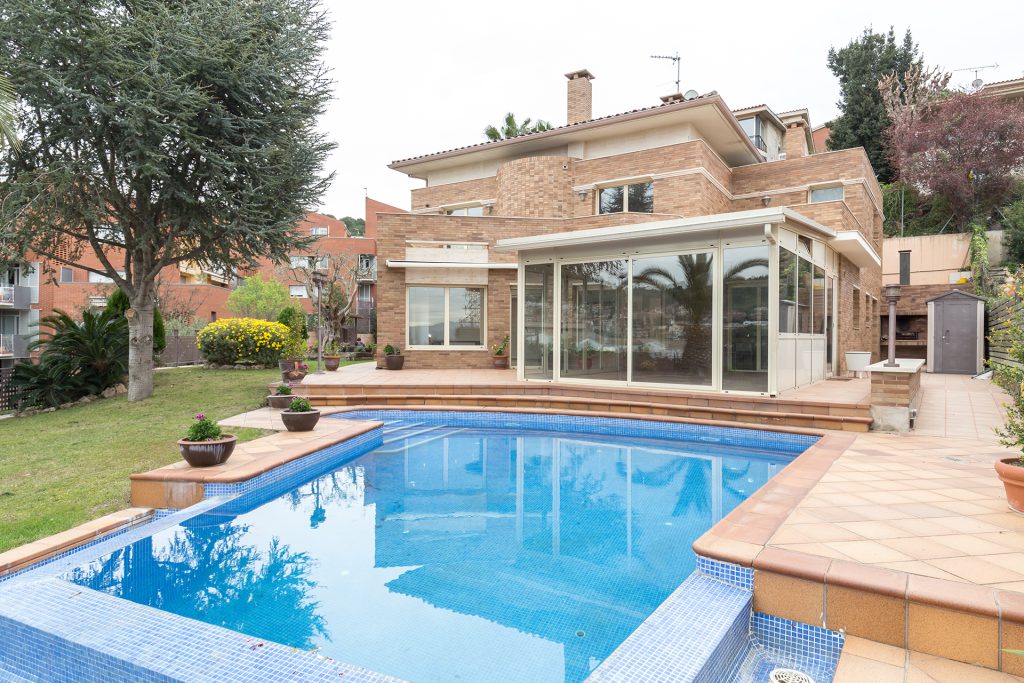 This private swimming pool is found in a detached house of 450sqm in Sant Just. The house on the outside, and with the help of the large swimming pool, you can already see that it is spectacular, in addition at the back there is also a small orchard. But inside we find a good design and a good distribution, and even with multipurpose space, a cellar and a gym, complementing the entire complex with a garage with capacity for 4 vehicles.
27338- Excellence in its purest state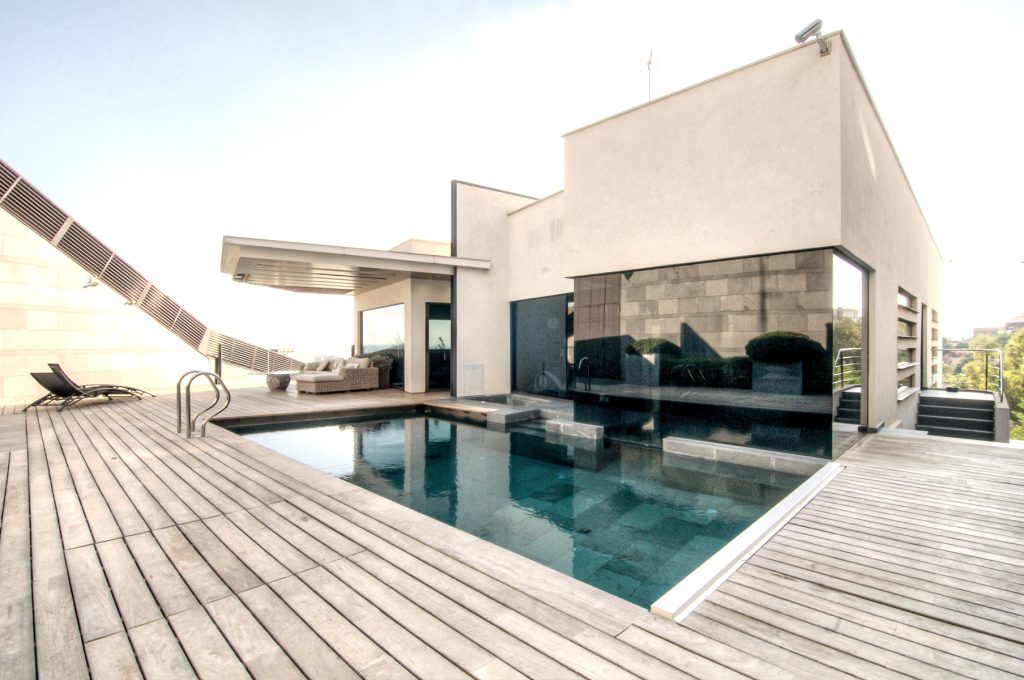 The design swimming pool of this Espulgues house does not come alone, in the 750sqm house we also find a gym with a water area, a double spa, a wet sauna, an indoor pool and an ice fountain. The minimalist design house is by the renowned architect Josep M. Cartañà and comes equipped with a domotic control, solar panels and an interior elevator. But, in addition, the Japanese garden has been designed by the prestigious landscaping studio of Mireia Ros.
27287- Large oriental-inspired mansion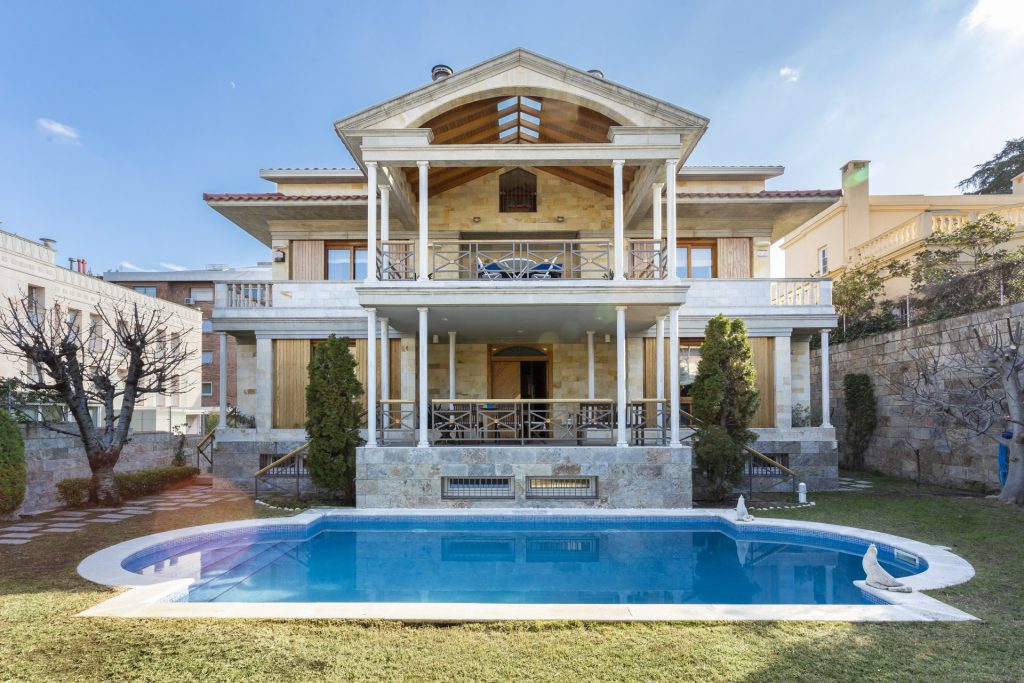 This swimming pool is part of the magnificent 612sqm house to which it belongs is found in Barcelona. When we mention the word mansion we do not deceive you, inside we find everything: 9 bedrooms, 6 bathrooms, library, gym, sauna, cellar, barbecue and with an elevator for all levels and solar panels. The porch that brings us to the east air is one of the most outstanding parts of the garden.
26121- Excellent house with wide spaces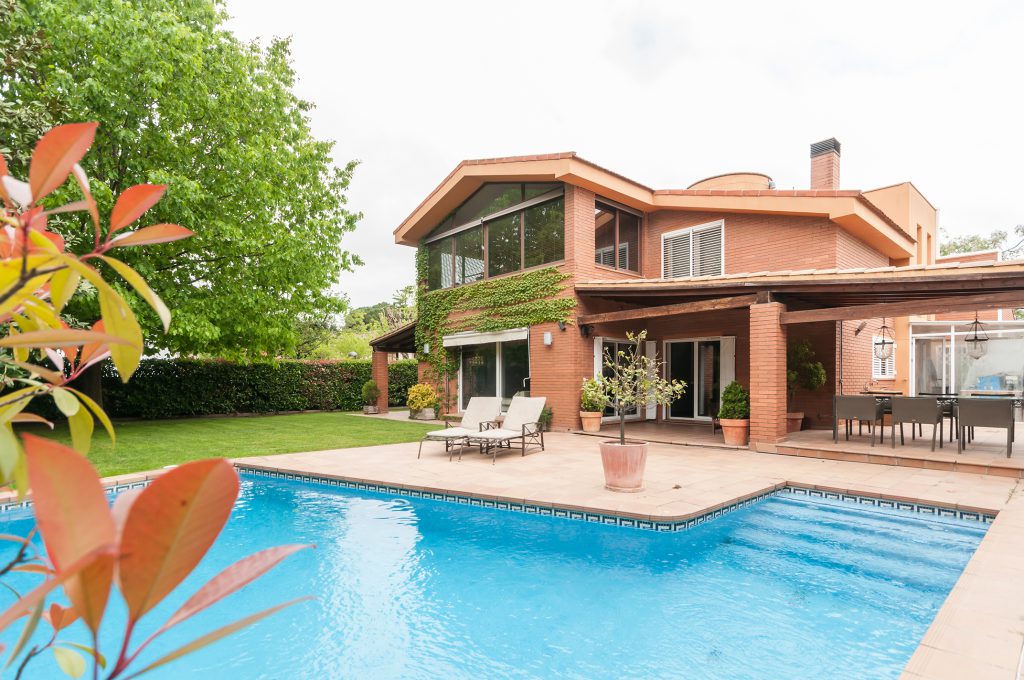 The private swimming pool of this house is fantastic, just like the house of 461sqm to which it belongs located in Sant Cugat. We find large spaces spread over 3 floors and a large garden renovated with quality materials.
25137- High standing promotion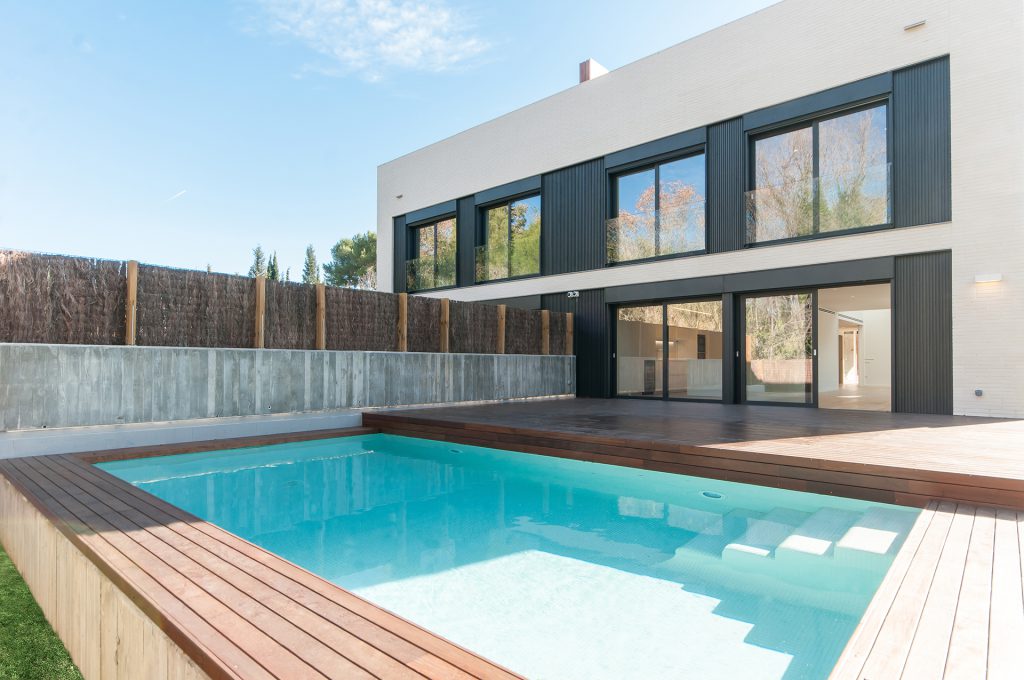 Swim in this swimming pool means living surrounded by design. The semi-detached house of new construction in Sant Cugat has 570sqm and is equipped with the highest quality materials for greater comfort with minimum consumption. We find spacious and bright spaces with the garden where the swimming pool is located, and a terrace with great views.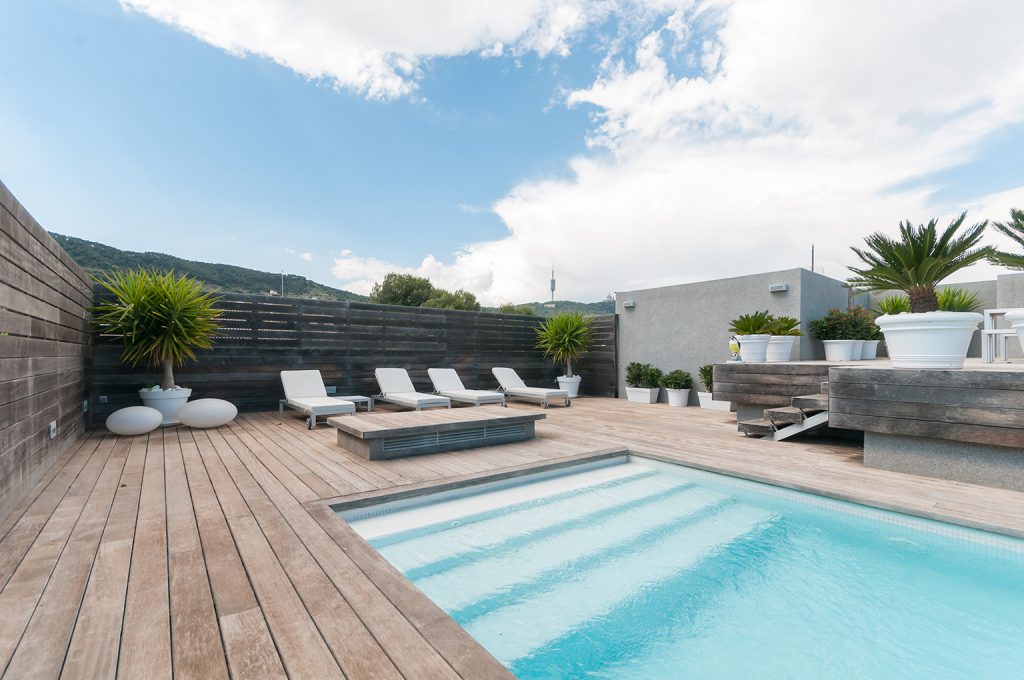 This community swimming pool with its garden is part of a fantastic 550sqm penthouse with 3 floors in Barcelona. In a building with a 24h concierge service, we are surprised by this apartment with 5 bedrooms and 6 bathrooms with a rational distribution and a beautiful conception of space.
22855- Exclusive design property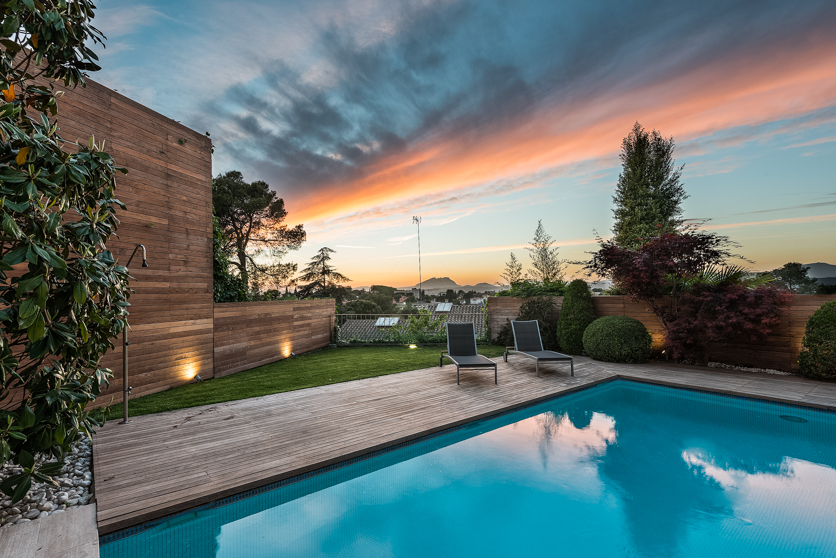 The swimming pool completes the perfection of this 850sqm house in Sant Cugat. The house is a project designed by the architect Joan Lao and contains 5 bedrooms and 6 bathrooms with wide spaces, finished to a high standard and with incredible views. To move between floors we have an elevator that facilitates go to the parking lot where 5 cars can fit.
---