Immaculada and Joana Amat recieve the CECOT Personality Award
Inmaculada and Joana Amat were honored on October 6 with the CECOT Personality Award for their trajectory in the business sector and last night, October 23, they were able to pick it up at the Entrepreneur Night award, a meeting point social network for entrepreneurs from all over the country, which took place in the National Theater of Catalonia, where important businessmen of the Catalan society attended.
The Night of the Entrepreneur wants to be a recognition to companies, institutions and people who have stood out for their contribution to the economic development of the country, yesterday celebrated its 23rd edition with the outstanding presence of President Puigdemont and other authorities as the president of the Parliament of Catalonia , Carme Forcadell, the Councilor for Enterprise and Tourism of the Barcelona City Council, Agustí Colom; the Councilors of the Generalitat de Catalunya: Meritxell Borràs, Minister of the Interior, Public Administrations and Housing, Santi Vila, Business and Knowledge Counselor, Josep Rull, Territory and Sustainability Counselor, Meritxell Serret, Minister of Agriculture, Livestock, Fisheries and Food , Dolors Bassa, Councilor for Labor, Social Affairs and Families. Also attending the president of the Diputación de Barcelona, ​​Mercè Conesa, and the Mayors of Barberá del Vallés, Matadepera, Sentmenat, Ullastrell and Olesa de Montserrat. They have also confirmed municipal representatives of other towns of the Vallès like Terrassa, Sant Cugat, or Sant Quirze. Also participating the presidents of the Port of Barcelona and the port of Tarragona, Sixte Cambra and Josep Andreu.
The dinner has also had the participation of numerous business representatives from organizations such as the Chambers of Commerce of Terrassa and Sabadell, FAGEM, Fecic, FemCat, Barcelona Constructors' Guild, UEP, UEA, Amec, Sant Cugat Business Association, metallurgical of the Bages, we center, Comertia, representatives of Catalan professional schools like the one of lawyers, engineers, economists, of arraigners, among others entities. Also attend the representatives of CCOO and UGT in the Western Vallès. Directors of companies and reference entities such as HP; Uriach Group; ENDESA in Catalonia; SEAT; We speak Telecom; ELEVEN; Helvetia; Lavinia; CaixaBank; Movistar; among many others. Representatives of Catalan universities such as the UAB, UVIC and UPC and the main business schools in Catalonia have also confirmed their attendance, as well as deputies from the different political parties in the Catalan parliamentary arch, such as D. Bonvehí, C. Campuzano, À . Ponsa or Marta Pascal of the PDECat, J. Capdevila and E. Capilla, of ERC, A. Romero of the PSC or L.Vilchez de Ciudadanos.
The night has been marked by the current political situation of the country. During the ceremony, Imma and Joana Amat have asked for the release of Jordi Sánchez and Jordi Cuixart, who, they said, are imprisoned for their political ideas. This defense has been followed by an ovation by the approximately 600 businessmen who were in the act. Entrepreneurs have also made statements about the flight of Catalan companies in TV Vespre TV3.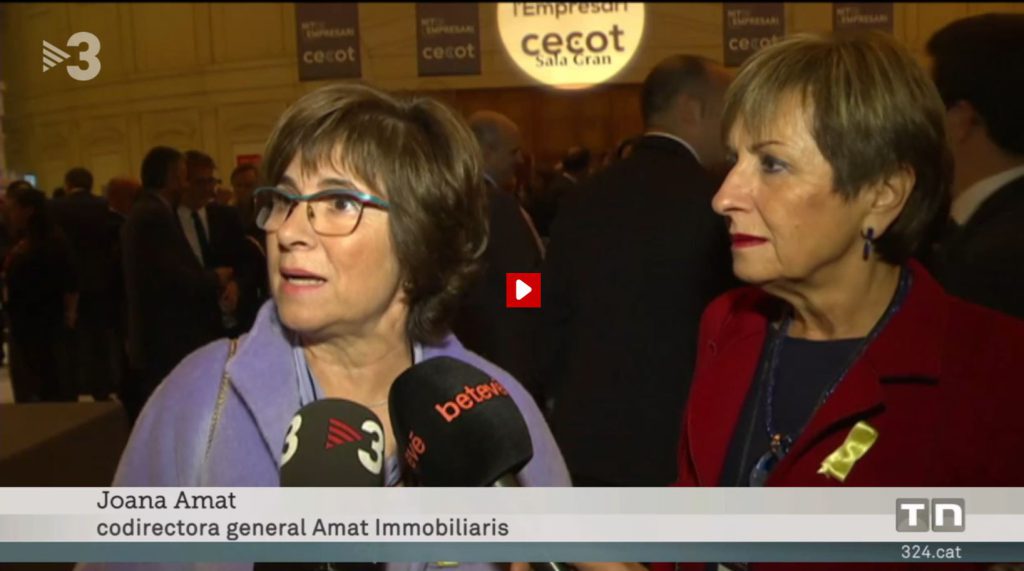 The following media pick up the news:
Via Empresa 'La Nit de l'Empresari més reivindicativa'
Tot Sant Cugat 'Cecot reconeix la trajectòria professional de les empresàries Imma i Joana Amat'
FIDEM ' Entrega de premis CECOT a Immaculada i Joana Amat'
El Periódico 'Premios para superar límites'
Ara.cat 'Llarga ovació dels empresaris de CECOT al President Puigdemont'
El Temps 'La 'Nit dels Empresaris' esdevé un clam pel diàleg'
Món Terrassa ' El TNC acull la 23a Nit de l'Empresari de la Cecot Terrassa'
La Vanguardia 'Farggi La Menorquina y el CN Sabadell, entre los premiados en la Nit de l'Empresari de Cecot'
VilaWeb 'Les empresàries Joana i Inmaculada Amat, guanyadores del Reconeixement Cecot a la personalitat 2017'
El Español 'Puigdemont, aclamado en la Nit de l'Empresari de Cecot'
---