How to make buyers fall in love with your home?
A pleasant aesthetic, natural light or storage space. 10 ways to make buyers fall in love with your house.
It's Valentine's Day! Although we agree that it doesn't have to be Valentine's Day to be romantic, today, we bring you 10 ways to "dress" your home and make buyers fall in love. In love, our senses and emotions impact our attitude and perception, which can be positive or negative. The same happens when visiting a home. There is a very fine line between falling in love with a home or hating it. Potential buyers form a strong opinion of a home, one way or another, during the first 90 seconds of a visit.  Almost like love at first sight.
"I instantly fell in love with that house!"
How many times have we heard that phrase during the deed signing? Years of experience have taught us that on many occasions the emotions that a client has about a property have prevailed over other aspects, including economics, when purchasing a home.
The buyer's perception of a property makes the difference between selling or not selling. Decorating and improving the appearance of the home to enhance the strong points and thus make the buyer fall in love is the key. A cold space becomes warm and welcoming, which causes a positive emotion in the client. The buyer stops seeing one more property and starts to see a space where they can live and relax. Your future home.
60% of the homes that apply the Home Staging technique are sold for 5% and 25% more than their initial value. In addition, the time to sale is greatly reduced, according to the AHSE.
10 ways to make buyers fall in love with your property
Good pictures
Studies say that 94% of potential buyers search for their new home online. That is, the photos are what will make a client decide to go or not to see the house. Our advice is to spend time taking photos with light and well framed that show the property as well as possible. Good photos will not only help you get more views, but also help you stand out from the competition.
The pictures of the property. A picture is worth a thousand words, and a good photograph can sell a property. A good phone or camera, sometimes, is not enough to convey your property positive sensations. If you can, call a professional photographer.
Videos of the property. A good video or virtual tour of the house can make it stand out from the competition. As well as with pictures, quality is highly important. A poor quality video can cause negative reactions from potential customers.
Now we can begin the visits! It's time to make customers fall in love.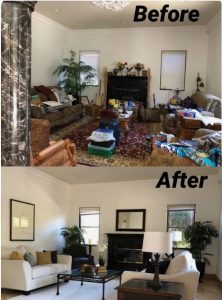 Depersonalize the house
One of the most significant aspects when selling is that the client feels, from the first moment, that he is at home. If the house is full of personal objects, such as photos, medicines, souvenirs, clothes, etc., the client feels out of place. This creates a feeling of discomfort. That is, the opposite of what we want.
By depersonalizing the house, we give our clients a chance to see and feel they are home. Neutral environments invite the buyer to enjoy them as their own from the first moment and allow them to capture the attention of a wide range of potential buyers.
Light colors
The color red in the master bedroom may be what you've always wanted, but it can evoke a negative feeling in the potential buyer. Light and neutral colors help to depersonalize the home and also convey positive emotions.
Yes, white is the color of relaxation by excellence, but that does not mean that all the walls of the house have to be that color. Ranges of grey, brown and light blue are also neutral while still giving color and personality to the home. Add-on, the lighter versions of these colors convey positive emotions, such as order, elegance, or security.
Our advice is to avoid having dark color rooms during the selling process. Is it worth changing the color of a room to sell the house? Yes. The buyer perception can be entirely different.
Lightning
Lighting is usually a very significant requirement for all clients, be it natural light or the feel of it. Opening the blinds, open curtains and good lighting can make all the difference. Not all homes are lucky enough to have a lot of natural light, in those cases, artificial lighting is the key. We must avoid a dim light that makes the space darker and smaller. As with light colors, good lighting gives space amplitude.
If you can, our advice is to show your home on sunny days and not on rainy or very cloudy days.
Show the potential
Avoid your home being empty! Buyers cannot imagine the potential of your property if they do not see it. To envision a free space is hard for most clients, which is why new build developers always have apartments furnished to show. It is difficult to make a buyer fall in love with an empty house, since it is difficult for them to appreciate its potential and see it as a home. This applies to any room in the house. Having an empty room without a specific use is a mistake. Presenting a room as an office, even if this requires adding a table and a chair, than a storage room, is always better.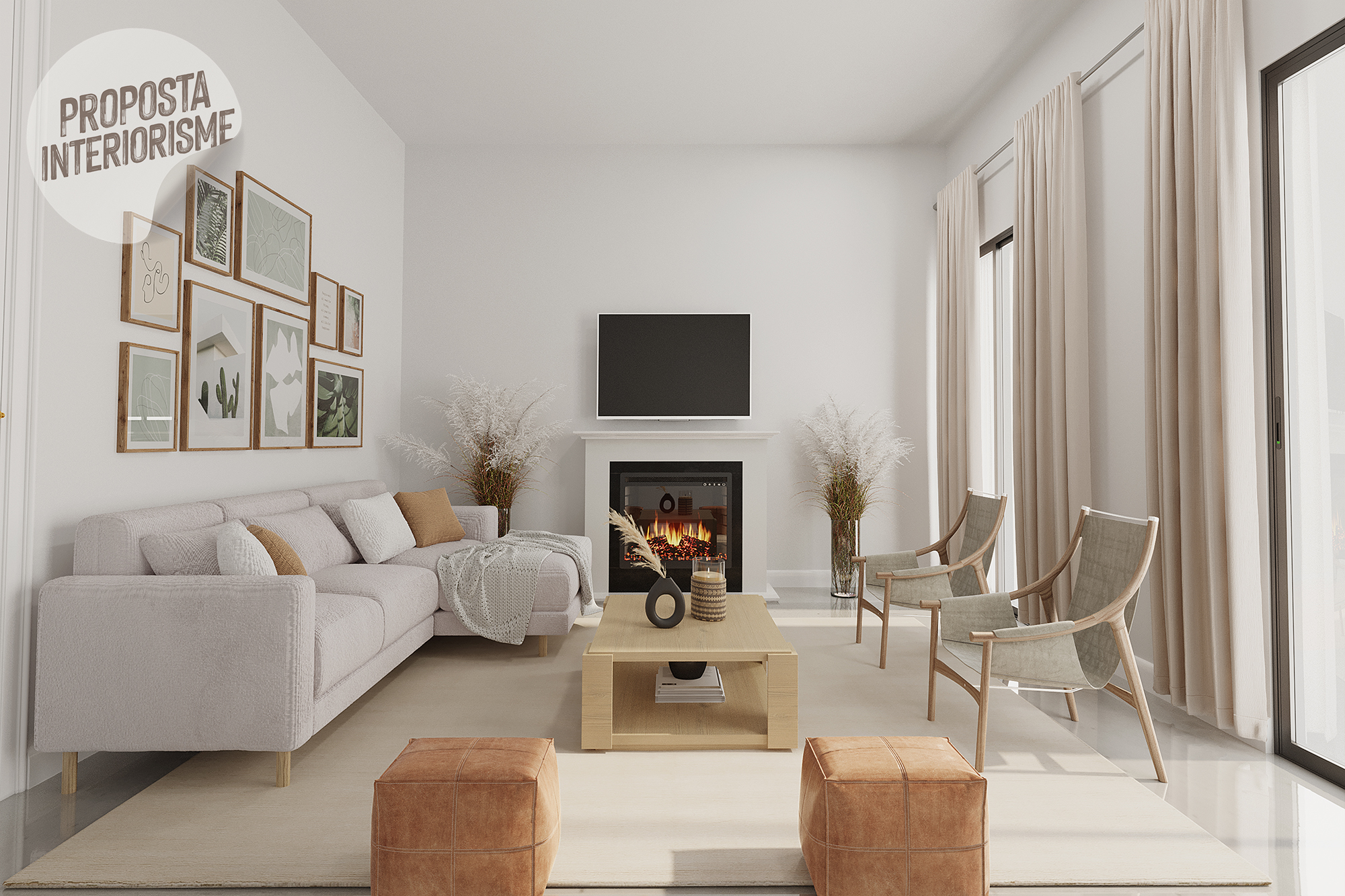 Neutral furniture 
If free spaces are not recommended, it means that furniture is important. However, the objective is still to attract a wide range of buyers, so it is preferable that the furniture has a neutral design and colors. In addition, it is recommended that the furniture does not have ornaments, knobs, or personal decorative objects.
To make the most of the spaces, we recommend that the furniture have straight lines and be placed symmetrically.
Organized spaces
A fairly common mistake is to add objects in places that you don't really need them and that obstruct the client's vision. Many times, especially when we talk about organization and decoration, less is more. Besides, disorganized spaces evoke negative emotions in customers. Organizations conveys calm, serenity, spaciousness, and lightness. Furthermore, uncluttered rooms always seem larger.
Our advice is to clear all rooms. If it does not have a purpose for the sale, throw it away or keep it in a storage room. Clear spaces include hallways, especially if they are narrow. In the case of long corridors, it is advisable to add neutral vertical elements, such as paintings, since they help reduce the sensation of long distance.
The storage capacity of a home is usually a very significant aspect for buyers, especially in city apartments. If you have large, tidy closets, have one open during the hearing. This allows the client to see the storage capacity of the home, in addition to transmitting transparency, which evokes a positive and trusting feeling.
Ventilation and fresh air
Smell is the only one of the 5 senses in direct contact with what we call the emotional brain. That is to say, it does not have any filter, which makes it the most irrational sense of all. It can make the buyer fall in love with your home, an impossible task, no matter how much your property has everything he was looking for. Poor ventilation or a smell in your home will cause an unpleasant sensation in the potential buyer. This sense is also the one that evokes the most memories, so the client will remember that feeling even at the end of the visit. This can be easily avoided. Renew the air in all rooms for 10 minutes before the visit. In addition, the use of good air fresheners with a neutral scent helps to convey cleanliness and freshness to the client.
The smell during the visit of a sale is so important that even experts advise opting for more homely scents. Freshly made cookies, or even preparing coffee a few minutes before the visit, can make a difference. The smell of coffee is something that almost everyone likes, even those who don't drink it, and it also stimulates and comforts, thus transmitting positive sensations to the potential buyer.
Pets outside the house.
Pets are usually a member of the family, however, when it comes to receiving potential buyers it is advisable that they are not at home. There are several reasons, including the smell. On the other hand, pets tend to distract and our goal during the visit is for the client to pay attention to the home. Furthermore, there is always the chance that our buyer doesn't like animals, in which case we would cause a negative feeling as soon as he walks through the door.
Outdoor spaces.
A great-added value to any home, however, you have to take advantage of them. However, a mistreated balcony, terrace or garden, can arouse a negative feeling. A well-used, cared for and decorated balcony can sell much more than a messy and neglected terrace.
What do you think of our 10 ways to make buyers fall in love with your home? Do you find them useful? Share this article if you like it!
---