The benefits of green roofs in buildings
In Amat, we think about the future and that is why we take up position to a more sustainable society. We know that by improving the energy efficiency in buildings, providing renewable energy and installing new green spaces contributes to the fight against climate change.
It is clear that we need a change in cities, in infrastructure and in the buildings where we live. In this post, we will talk about the problems in cities, but we will also explain the nature-based solutions that help to reduce these problems: green or vegetable roofs; an important bet for the future to improve the environment, while improving our building.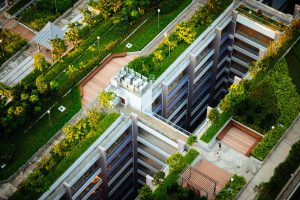 It is expected in 2050 between 50-80% of the population will live in cities, with important social, ecological and health consequences. This causes an increase in the possibilities of floods, increases pollution, worsens air quality, and causes a lack of green spaces and a reduction in biodiversity, causing heat islands and increasing energy dependence and its costs.
We know that if we live in cities we have poor air quality, but green roofs help us to improve it, since they not only generate oxygen, but also absorb CO2. In cities, the temperature has progressively increased causing what is called the Heat Island Effect, with a 2-3ºC higher temperature in the center than in the suburbs. This increase affects people, but also buildings and its infrastructures, and green roofs provide us with the necessary freshness to reduce this temperature.
In a conventional roof the temperature can reach 70ºC, while with a green roof we can keep a constant temperature of 26-30ºC, which not only reduces the interior temperature of the building, but also which contributes to the protection of the cover and the lengthening of its useful life.
And we do not forget renewable energies, we have already talked about this in other posts, self-consumption is possible thanks to the installations of photovoltaic panels, it is an ideal investment that allows us to contribute to the improvement of sustainability and also and also save money. It is also important to note that we can increase these beneficial effects thanks to the combination of the panels with the green roofs.
Since 1987, the United Nations has spoken of Sustainable Development, materializing in the Sustainable Development Goals (SDG) adopted by all states members in 2015. There are 17 different SDG points established, and thanks to the conversion of green roofs and with renewable energies, we are contributing in 7 of them.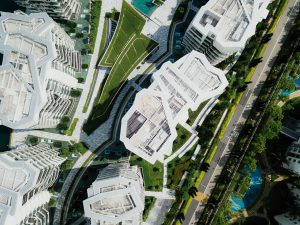 In addition, we can generate new spaces to enjoy, for example, our rooftops,
With these actions, we also help to achieve the European Union's Climate and Energy Framework for 2030, which establishes 3 key objectives:
Reduce greenhouse gas emissions by 40%.
Achieve that renewable energies reach a minimum share of 32% of final energy consumption.
Improve energy efficiency by 32%.
All this helps us to improve our building, our health and our environment, generating savings and revaluing our properties.
If after reading all this you are thinking of transforming your roof, we will help you to know all the possibilities and choose the best option for your building. We can do a turnkey project with specialized technicians and financing possibilities, ask us.
---