We have had GreenDEX in most of the cities where we have real estate for a long time. And this past September it arrived in one of our important cities: Sant Cugat. Now we have almost 100% of our properties covered by GreenDEX. However, maybe we should clarify some concepts that are still not completely clear to us.
What is GreenDEX, how is it calculated and what is it for?
To answer all these questions, we have contacted the GreenDEX's creators, the catalan company StarLab, and they have explained to us through a video the doubts and how they created the index.
StarLab gave us the opportunity to measure, with the index, the quality and quantity of vegetation around the buildings. This way we can add more value to the homes we have and, thus, our clients can value the quality of life that can have in each property related to the surroundings.
As explained in the video, GreenDEX is calculated with a ratio of 100 meters around the house using high-resolution satellite images, measuring the green roof and the types of vegetation, and integrating everything in the index maps. In addition, it is updated in real time in case there may be changes. Nevertheless, the thing does not stop here, looking at the future, StarLab is working to assess the quality of the air and traffic around each property.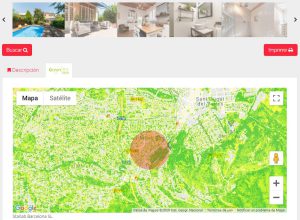 The symbols we use to mark GreenDEX rating scale are the numbers from 1 to 5, with 1 being the maximum for vegetation and 5 being the lowest value.
Moreover, the best way to see the vegetation index in each city is through the GreenMap that you can find next to the descriptions of each property in our web site, focusing on the town area where you are.
Thanks to the application of GreenDEX technology and the information it provides us, 1 year ago we received the Most Innovative Marketing Technique award by Luxury Real Estate from the United States and where businessmen from the sector from more than 70 countries meet.
---