The most curious open kitchens
Open kitchens have their followers and their detractors, and this post is dedicated to all those who love them.
The advantages they have are a few, such as the fact of gaining space by giving amplitude to the kitchen. As it does not have walls, the room seems larger and this helps a lot in small kitchens, helping, also, to a greater luminosity making the space more comfortable. As the open kitchens are directly connected to the dining room, it is much faster and easier to set the table and, therefore, it is a space to share and have a conversation with people who are not in the kitchen. In the case of small kitchens with little ventilation, they also win, since normally the room to which they are open tends to have good ventilation. At this point it may be where many see a disadvantage with food smells, but with a good extractor hood this is solved.
Below, we have selected the most curious open kitchens that we have in our properties for sale.
We enter this penthouse directly to the open kitchen that separates the day and night areas. With a total of 179sqm renovated, 3 bedrooms, 3 bathrooms and with spectacular views of Casa Batlló from the dining room, it becomes a dream place to live.
28252- Open kitchen in a recently renovated apartment 
180sqm on one floor with high quality finishes, 3 bedrooms and 2 bathrooms; located in a residential area in the center of Sant Cugat in a building with concierge and community swimming pool. The large open kitchen is fully equipped with high-end appliances and it has a integrating design with the rest of the house.
In Can Candeler area of Sant Just we find this spectacular 547sqm house over 4 levels on a 552sqm plot, 6 bedrooms and 5 bathrooms, garden and swimming pool. It stands out for its elegance and luminosity, which also sneaks into the spacious kitchen with a spectacular island, fully equipped with high-end items and with access to the garden porch.
26276- Spectacular renovated typical Catalan country house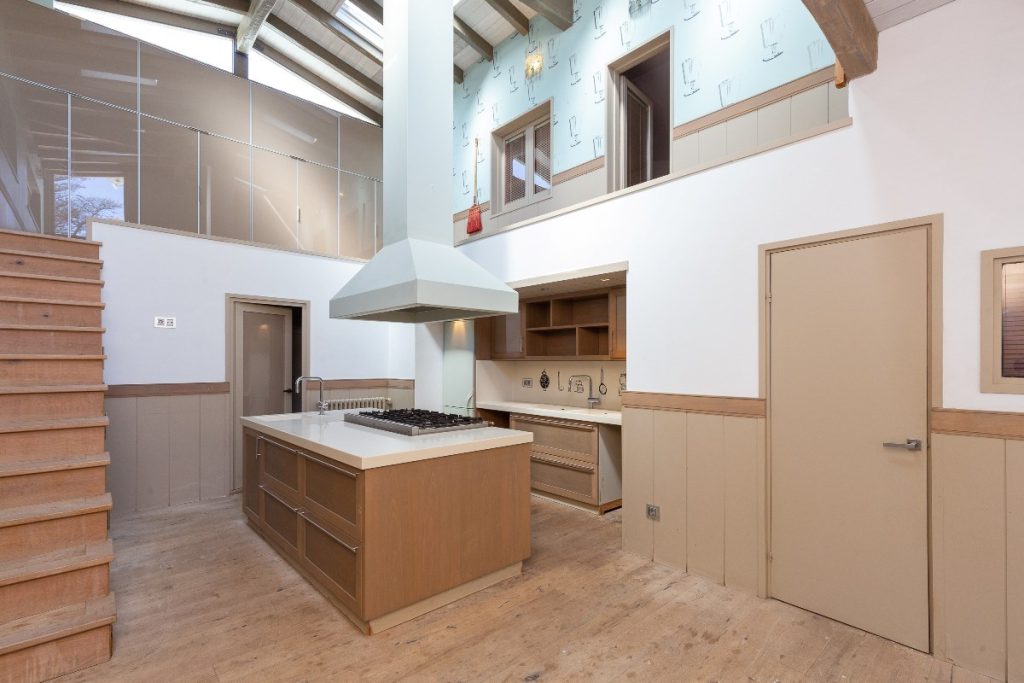 In Sant Pol de Mar we find the typical Catalan country house Can Pi with a total of 10,000sqm. The main building is a two levels traditional Catalan farmhouse renovated keeping the traditional spirit and this is also evident in the fantastic kitchen area with a 7 meter high ceiling and openings to let in natural light. There are a total of 7 double bedrooms and 5 bathrooms, a swimming pool, a porch, a huge garden, a well, its own water tank and a separate 100sqm house.
28044- Renovated kitchen integrated with the dining room 
Exclusive renovated apartment with a versatile and functional design in the Eixample Esquerra in Barcelona of 83sqm, 2 bedrooms, 2 bathrooms and 4sqm of dressing room with high quality materials. The open kitchen integrated into the living room with an island create an open and pleasant space perfect to continue with the dynamism of day-to-day.
26510- Rehabilitated period house 
In this house in Sant Cugat we find a large semi-open kitchen with access to the dining area in a 260sqm house with two floors. The whole house has been renovated with great style, maintaining the mosaic floors and period stained glass windows; we find 4 double bedrooms, 2 living rooms with fireplace, 3 bathrooms, terrace, 755sqm garden and swimming pool.
29200- Renovated apartment in El Born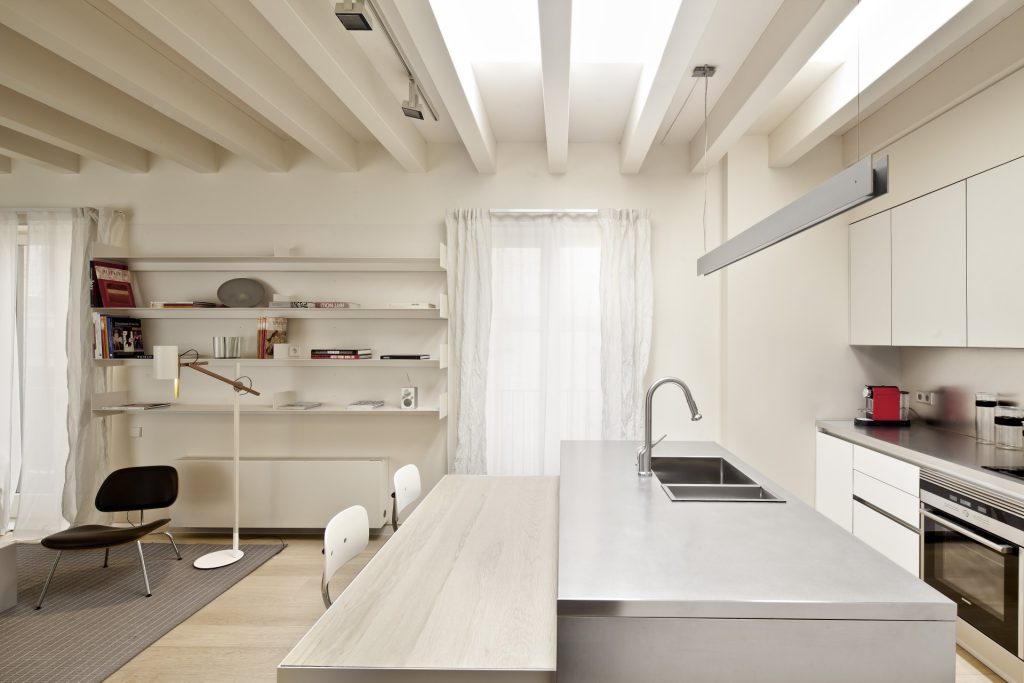 Live 10 meters from the Basilica of Santa Maria del Mar in a fully renovated building with a communal area on the roof with a small pool, barbecue and chill-out area. The apartment is 100sqm with 2 suites, 3 bathrooms and an open kitchen to the living room and overlooking the interior vertical garden.
---