Talk about entrepreneurship within the "School and Business" program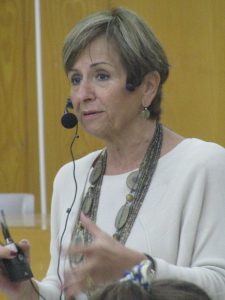 On November 2, 2017, like every year, Immaculada Amat offered a talk on entrepreneurship, business values ​​and her business career at the Jaume I Institute in Salou.
The visit is part of the "School and Business" project of the FemCat Association, with which Immaculada Amat, co-director of Amat, and Guifré Homedes, Director of the Barcelona office, have collaborated for approximately 6 years. The first objective of this entrepreneurship talk is to promote the entrepreneurial spirit of the students attending.
During the entrepreneurship talk, some of Amat's main values ​​and strategies were highlighted in order to consolidate and be a successful company in the real estate sector, such as: observation, market analysis and constant work.
Immaculate Amat stressed that "the training of employees, enthusiasm and innovation have made us leaders in the sector". The imagination to address each new challenge, incorporate new technological resources to offer comfort, efficiency and quality services have made Amat occupy a privileged space in the real estate market.
The entrepreneurship talk was a success of assistance.
---