Ideas to decorate your home for Halloween and Castanyada
Ideas for Decorating Your Home on the Night of October 31, whether to celebrate Halloween 🎃 or Castanyada 🌰
More and more, we embrace celebrations from other parts of the world and make them our own. One of them is the well-known Halloween, where both children and adults dress up as known characters from the world of horror cinema or terrifying creatures and spend the night of October 31 having dinner and partying. In Catalonia, this celebration is combined with Castanyada, where family and friends gather to have panellets, chestnuts, and muscatel for dinner.
Despite being a celebration from the United States, every year in our country there are more Halloween enthusiasts and more families who combine it with Castanyada. This makes, in addition to wanting to portray a terrifying character, you want to decorate the house with suitable motifs for the festivities. That's why we've thought of putting together a collection of ideas that can help you decorate your home on the night of October 31.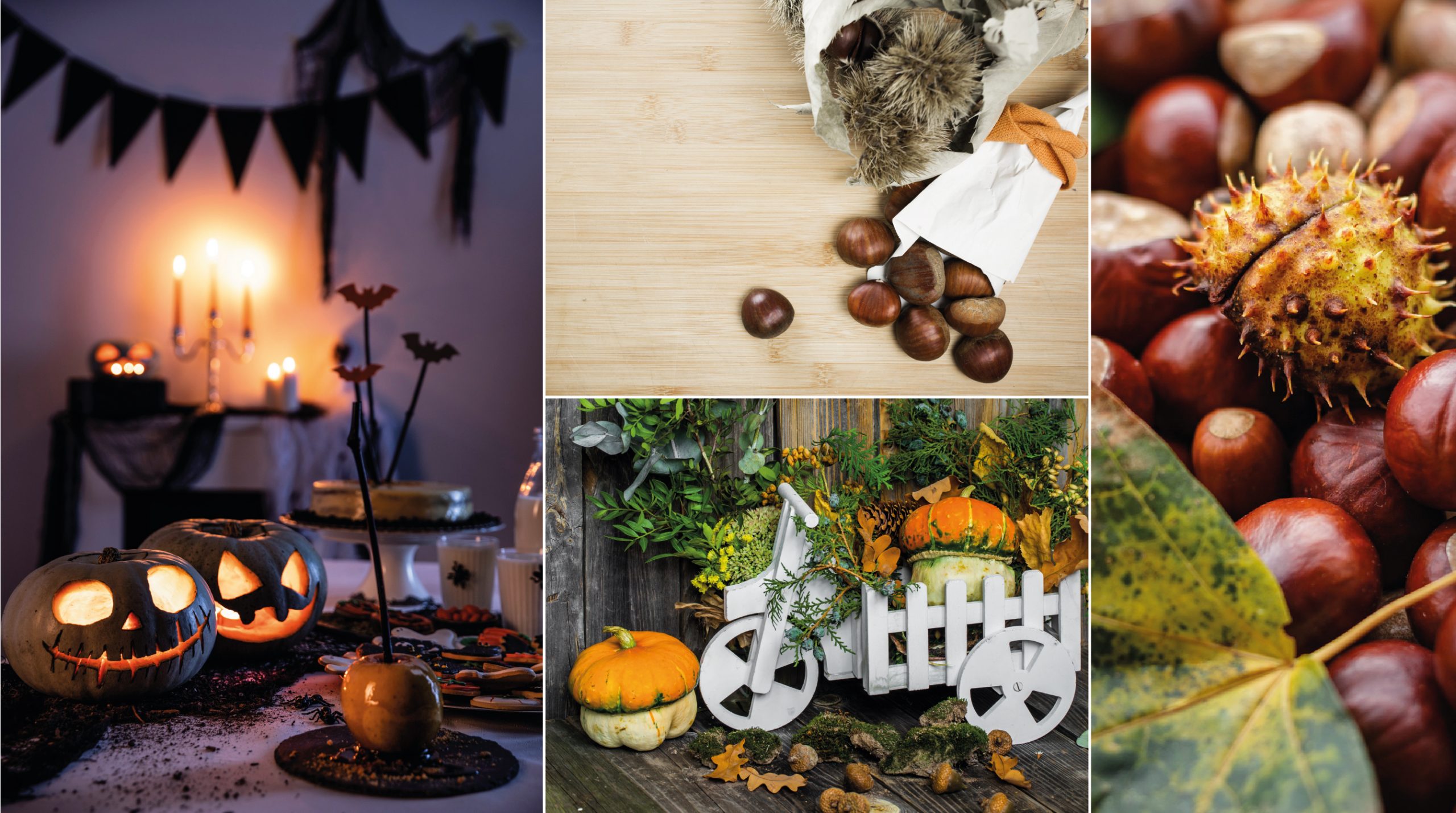 Halloween Table | Castanyada Decoration |
Small pumpkin on a wooden wall | Chestnuts by Christoph Schütz
When we think of decorating the house for Halloween, the first thing that comes to everyone's mind is the pumpkin with lights, bats, and terrifying creatures. However, we can go beyond and transform this decoration into a more sophisticated mood that suits your home style, such as adopting a minimalist approach. We present different options to give a festive touch to your home! We offer riskier or more economical proposals so that you can make your home look themed to welcome your guests.
The colours that help you decorate
When starting to decorate, it's essential to consider the predominant colours in a traditional decoration on the night of October 31. These colours are black, orange, purple, gray, and red. Black and gray, in the context of horror, always evoke darkness and intrigue. As for orange, it's distinctive for Halloween, as the main element used is the pumpkin. On the other hand, purple colours are influenced by lilac flowers and the clothing that witches, warlocks, and others may wear. And the colour red as a symbol of blood, more commonly used in the gore genre. The most common elements are pumpkins, skulls, spiderwebs, spiders, veils, and candelabras.
The predominant colours in the case of celebrating Castanyada are warm shades like browns and oranges. These colours convey a feeling of warmth and cosiness to the home. The most common elements for this celebration are the same chestnuts, panellets, leaves, dry branches, and characteristic autumn elements.
Traditional table decoration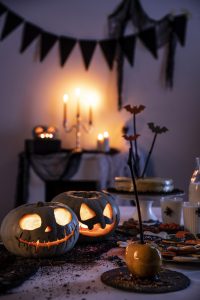 In the dining room, specifically on the table, is where the dinner takes place and, therefore, it is the most important setting. On Halloween, tables usually imitate a terrifying style inspired by iconic scenes from well-known movies such as: Beetlejuice, The Addams Family, or The Texas Chainsaw Massacre.
A long table with items typical of the world of horror, such as candelabras (the older, the better), black tablecloths, candles, silver cutlery, and champagne glasses, constitutes a traditional decoration typical of all these iconic films. You can also choose to use roses in red, white, and black colours, depending on the shade that suits you best.
You can also play with the type of light and opt for a softer one or use candlelight, looking for light points that give more intimacy and highlight details of the table. It's worth noting that we don't want absolute darkness.
On the other hand, in almost all horror movies, there are always houses where the fireplace is a predominant element in the dining room's decoration. Do you have a fireplace at home? Highlight it by decorating it with candles and ornaments like artificial spiderwebs or skulls. And to give it a more atmospheric touch, light it up!
In the case of celebrating Castanyada, on the table, you can put characteristic elements of this celebration, such as chestnuts, sweet potatoes with muscatel, and panellets, and don't forget about some good chequered tablecloths. The chestnuts can be distributed throughout the table as if they were just another decoration and not so much food. You can also use dry leaves and branches to decorate the table as well as the utensils used in a daily dinner.
More fun decoration
This type of festivity, and more specifically Halloween, is aimed at children, and that's why if you have kids, it's preferable to opt for a more fun decoration. Therefore, crafts take centre stage and will be the main decorative element for this celebration. The most visible materials will be cardboards in the shapes of bats, ghosts, or spiders, spiderweb mandalas, and balloons in different shapes and colours.
In the case of Castanyada, children will fill the house with leaves, panellets, and chestnuts. Dry leaves are always an essential element, as it signals the arrival of cold and autumn. It's an identity sign in this celebration, along with chestnuts and panellets.
Outdoor decoration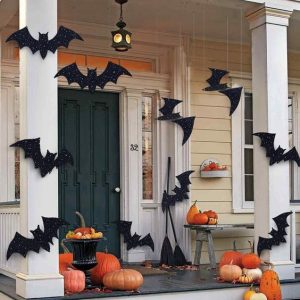 In the case of having a house with a garden, a good option is pumpkins of different sizes distributed around the front door. If you have stairs, you can arrange them by sizes and tones. You can also add a wreath of leaves and dry branches to the door and other types of seasonal fruit creating small still lives, as well as skeletal figures or witches and warlocks. It's a way to welcome guests and immerse them in the party atmosphere, giving a very characteristic touch of Halloween.
For Castanyada, we direct it more towards a type of decoration that is more autumnal and rural. We can use dry leaves to make garlands with autumnal tones or with newspaper cones and boots. In the case of having a bench or seat, we can decorate it with chequered cushions and blankets, with colours that match the autumn. Filling the path to the door with leaves can be a good option to give it a charming touch to the entrance.
More sophisticated decoration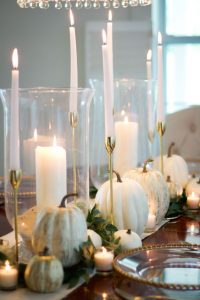 Although Halloween can be visualized in different ways, today we present a more sophisticated and glamorous option that we believe can connect with the dark and mysterious theme of the night of terror. Starting with the pumpkin, which is one of the accessories that has the most prominence, it is also one of the objects that has the most possibilities for decoration. In this case, silver colour along with gold, white, and black can form a perfect combo. We are used to relating this celebration with colours other than white, but in this case, it takes centre stage.
Natural flowers, seasonal fruits, Boho elements like white veils, and glitter create harmony and can give a more sophisticated touch to this type of decoration. Always playing with the subtlety of the elements that compose it.
The key to achieving a sophisticated decoration is to maintain a consistent style with all the elements and opt for quality in materials and details. That's why, in the case of wanting to celebrate Castanyada, we can opt for using a specific type of fabric and repeating the pattern throughout the house. We can also play with tones and have one stand out above the others, giving prominence to a single decorative element. Playing with light and smell can also be a good option, placing door hangers with scented candles and aromatic incense. All of this can help create a suitable atmosphere.
What do you think of these ideas to decorate your home on the night of October 31st?
For any questions, or if you want information, you can contact us through info@amatimmo.cat or by calling us at (+34) 934 803 400.
Did you like the article? Share it!
¿Te ha gustado el artículo? ¡Compártelo!
---