How to install green roofs
In a previous post we already talked about the advantages of having a green roof on a building or a house, but we did not explain the technical process of the facilities and the different types of roofs that exist.
First of all, remember that green roof is a system that is added to any roof, an interior patio or a parking lot, with vegetation in order to improve the insulation of the property, regulate the temperature of a building and, also, in the city, all reducing the Heat Island Effect. It is also a way to create more green spaces and convert more CO2 into oxygen, as well as to rethink new spaces that may currently be wasted.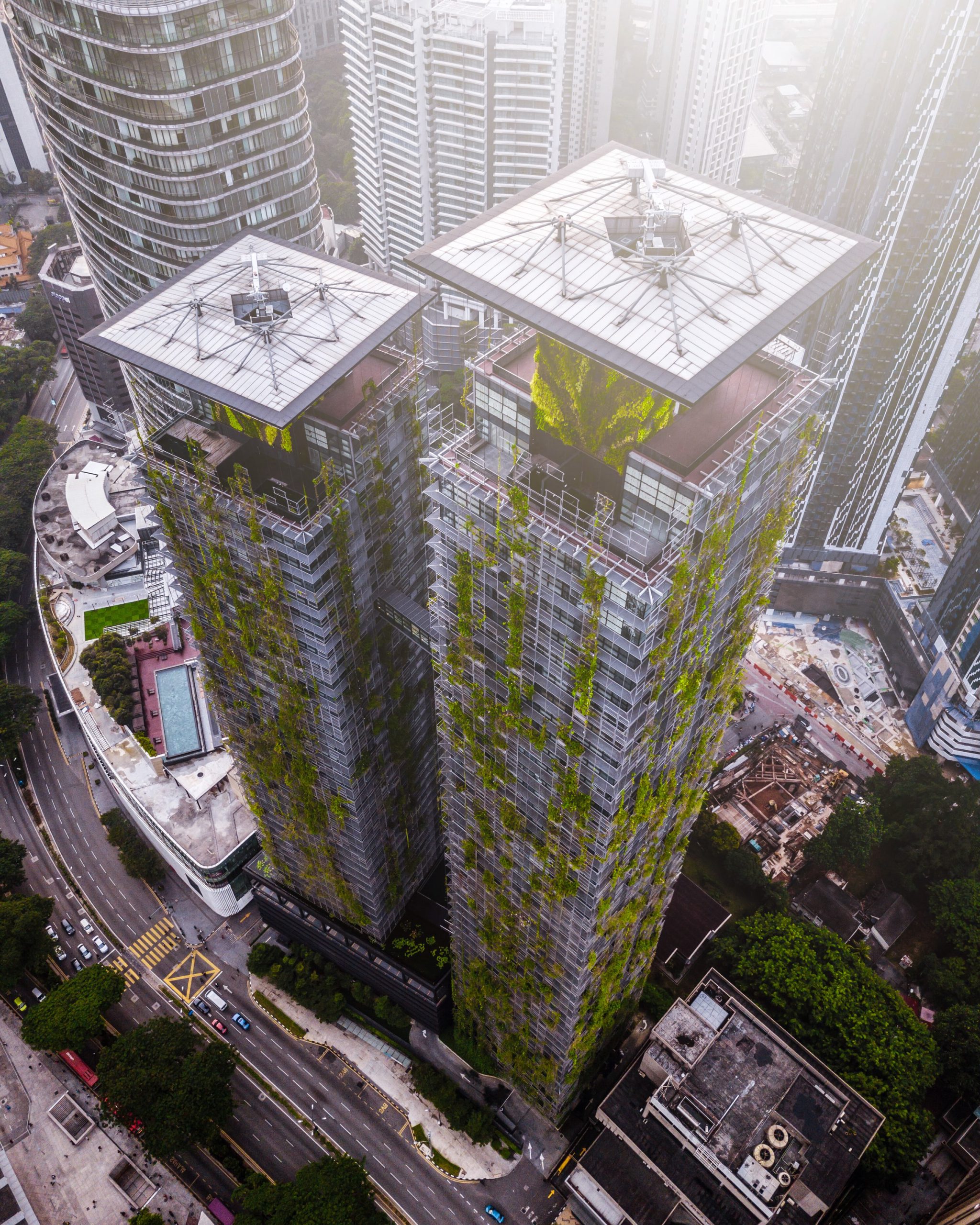 Types of green roofs:
Traditionally, 3 types of green roofs are defined; the intensive ones, the semi-extensive and the extensive ones, and their main difference is the thickness of the substrate that is installed and according to this the type, density and size of the vegetation will change. In addition, it is important to note that the maintenance of each one is very different, taking into account that every plant needs a minimum of water to live, the different types of green roofs always have integrated automatic irrigation, even if they are adapted plants.
Extensive or ecological green roof: between 5 and 10cm of substrate and with a saturated weight of less than 150 kg/sqm. They are used to putting succulent plants, low maintenance and low need for irrigation. It can be installed on roof slopes up to 30º.
Semi-extensive roof: we can already have larger and more varied plants, substrate between 10 and 60 cm, with a saturated weight of up to 300kg/sqm.
Intensive green roof: it is almost like a garden, with a substrate thickness of more than 50cm and a saturated weight of more than 300kg/sqm. A lot of maintenance is needed since the different types of plants will have to be managed and cared for.
Any of the types of roofs can combine the green part with passageways, recreation areas or renewable energy generation areas, creating new usable spaces in the building, as well as with the production of 0 km food through the orchards urban.
Installation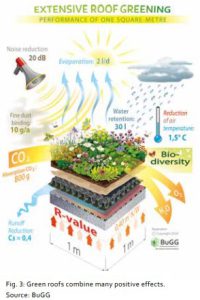 There are two ways to install a green roof; with the modular type or the multilayer system, taking into account that you need an adequate waterproofing for green roofs and make a personalized project according to the characteristics of the property and the result we want to obtain.
A green roof will always have different layers necessary to keep the roof protected, maintain the water needed for watering the plants, and adequately drain the rest. We will then have the anti-root waterproofing, a protective layer, a drainage layer, a filter layer and the substrate with the most suitable vegetation.
Several important points must be taken into account at the time of assembly, such as:
Functionality that we want it to fulfill: it must be analyzed what function they want the green roof to fulfill, if we want it to be aesthetic or functional, to be biosolar (generation of renewable energies through photovoltaics panels) or to promote biodiversity, that is accumulative of water or with an urban garden, or with different combinations of the above.
Weather and environmental conditions: the area where the roof is installed determines what environmental conditions we may have, as well as the most suitable type of plant according to the location. We will also determine the insolation that we have in case we want to combine the green roof with the installation of photovoltaic panels.
Property characteristics: if the roof is flat or sloping, if it is a new or remodeled property, if it is for commercial, industrial or home use, as well as the load capacity, it will also determine the type of assembly possible.
In order to install a green roof in any type of building, all the aforementioned aspects must be taken into account, for this reason we have specialized technicians for each stage of the process.
We make a custom project according to the needs and possibilities of each building, we can imagine any combination within the possibilities of the building, you just need to tell us what you want to achieve, we will advise you.
For any questions or if you are interested in installing a green roof, you can contact us through this e-mail.
---